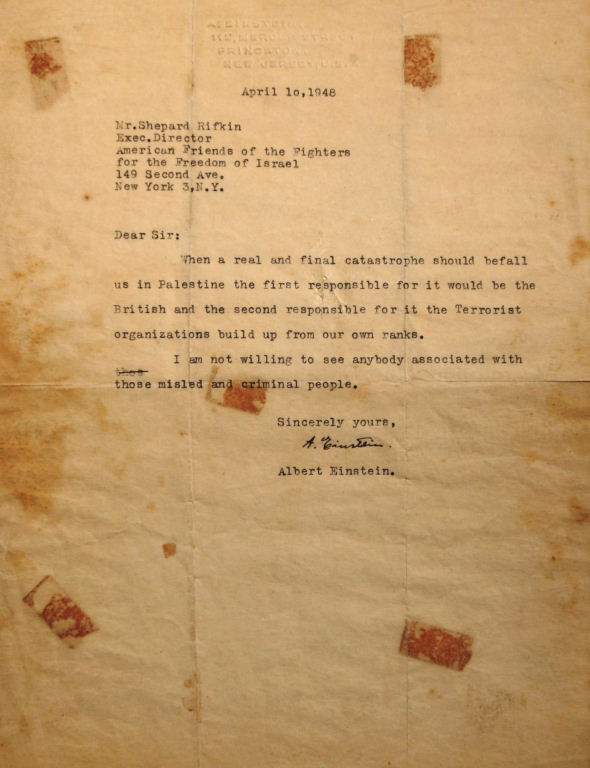 «Prior to [14May'48], two Jewish terrorist groups were working to cleanse Palestine of its Arab inhabitants and its British occupiers. The more brutal of these groups was Lohamei Herut Yisrael (Fighters for the Freedom of Israel) also known as the LEHI or the Stern Gang after its founder Avraham Stern.

Much of the financial support for these Jewish terrorists came from the United States. The Stern Gang received money collected under the more perfidious name, American Friends of the Fighters for the Freedom of Israel. Mr. Shepard Rifkin was the executive director after the UN Partition of Palestine and prior to the creation of Israel in May 1948.

Against his better judgment Rifkin solicited Albert Einstein to help the Stern Gang raise American money for arms to drive out the Arabs and help create a Jewish state. On April 10th, the day after the infamous massacre of Arabs at Deir Yassin, Einstein replied calling the Stern Gang terrorists and misled criminals.»
[
deiryassin.org/einstein
]
Note keywords: Cleanse Palestine, ... brutal ... Jewish terrorists, ... perfidious ... American money for arms to drive out the Arabs, ... infamous massacre of Arabs, Einstein ... calling the Stern Gang terrorists and misled criminals.
Comment: Note that already, the deceiving "Fighters for the Freedom of Israel" was being deployed, trying to disguise the truth, namely gangs of filthy, murdering, terrorist & criminal invading aliens.
lie2 -n. 1 intentionally false statement (tell a lie). 2 something that deceives. -v. (lies, lied, lying) 1 tell a lie or lies. 2 (of a thing) be deceptive. [POD]
Q: Why does the world tolerate this incredible foulness?
A: Because such truths as related above are kept publicly suppressed, by the corrupt and venal MSM, including 'our' AusBC.